REPUBLIC OF BELARUS
FULL NAME: The Republic of Belarus
GOVERNMENT TYPE: presidential republic
LANGUAGE: Belarusian, Russian
NATIONAL CURRENCY: Belarusian ruble (BYN)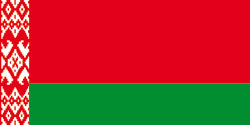 The Republic of Belarus is situated in the Eastern part of Europe. Its territory is 207 600 km2. The Republic borders on Latvia, Poland, Ukraine and Russia. The population of the country is about 9.5 million. The official languages are Belarusian and Russian. Minsk city is the capital of Belarus.
The climate varies from maritime to continental with mild winter and quite warm summer. Belarus is called a country of 3000 rivers and 10000 lakes. The area of the country is an alteration of picturesque planes and low hills. More than a quarter of its area is covered with forests. Belarus is famous for its National Park Belovezhskaya Pushcha.
The Belorussian Soviet Republic was formed on January 1, 1919. On December 30, 1922 the Republic became a member of the USSR. In 1991 Belarus was proclaimed an independent sovereign state, its official name is the Republic of Belarus. Belarus is a presidential Republic. The President is the head of state.  On the 8th of December 1991 The Republic of Belarus became a member of the Commonwealth of Independent States.
Administratively the Republic is divided into six regions, their main cities are: Minsk, Grodno, Brest, Vitebsk, Gomel and Mogilev. Minsk is the capital of Belarus, its population is about 2 million.
Belarus is a country of well developed science & culture. There is an Academy of Sciences, about 50 higher educational establishments.
Modern Belarus is a large economic region with a developed industry. The Republic produces tractors & other agricultural machinery, trucks & various metal-working equipment, furniture and many other kinds of consumer goods.
These are the toll free numbers you need to call in case of emergency in Belarus:
Fire department 101
Militsia (Police) 102
Ambulance 103